20.07.12

Einen ganzen Tag verbrachten wir in Sarad-e Boroghil mit der Vorbereitung
und Organisation des Treks in die Berge. Die Auswahl 6 starker Pferde war
erste Priorität. Mit fast 300kg Ausrüstung (Essen, Kletterequipment und
sonstiges) mussten wir genaustens planen, wie gepackt wird und wie verladen
wird. Mehrmaliges ein- und umpacken nahm einige Stunden in Anspruch. Der
Test der Solar Panels von der www.sonnen-schmiede.de war äußerst wichtig um
die Dauerhaftigkeit des Blogs zu gewährleisten. Am Nachmittag besuchten
einige von uns die Pferdeführer und Guides die sie auf den Wanderungen im
letzten Jahr begleitet haben. Es war ein sehr schöner Nachmittag mit den
alten Bekannten und die mitgebrachten Fotos wurden mit großer Freude
entgegengenommen und der ganzen Familie und den Freunden präsentiert. Die
Familie des Guesthouses empfing uns genauso herzlich wie im letzten Jahr und
half uns bei jeglicher Planung und Organisation.

We spent the day in Sarhad-e Broghil preparing for the trek into the
mountains. The selection of 6 strong horses awith accompanying horsemen, was
a high priority. With nearly 300kg of equipment (food, climbing gear, etc.)
we had to plan in detail, including how to pack in a way suitable for the
horses. We spent several hours packing, and repacking! Testing our solar
planels (thanks to sonnen-schmiede.de) was also very important to ensure our
ability to blog daily. In the afternoon a couple of us who had visited akhan
and gone trekking in the Pamir last year, visited the horseman who
accompanie us on our journey. It was delightful to see him again, visit his
house and meet some of his family. We shared laughter over the photos of
last year´s trek. On our way back to the guesthouse, thoughtful as ever, our
friend insisted we ride his horse over the creek crossing. Staying at the
guesthouse in Sarhad-e-Broghil was also a chance to see again a family that
had been helpful and welcoming to us last year. It was lovely to visit the
family running the guesthouse and to return some photos. Once again, the
family were very helpful in our preparations for the trek.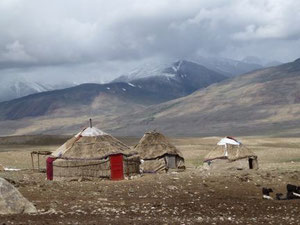 21.07.12

Früh am Morgen begannen wir mit 6 Pferden, 6 Pferdeführern, unserem Guide -
der sehr wichtig für Übersetzungen ist, einem hart arbeitendem Esel und all
unserer Ausrüstung unseren Trek. Unsere erste Herausforderung war der Daliz
Pass mit über 4200m Höhe. Dies war der erste Test unserer Akklimatisation
und Fitness, welchen wir ohne größere Probleme meisterten. Die 18km Strecke,
mit steilen Felshängen begleitet von intensivster Sonne sowie einem
schnellfließendem und extrem kalten Fluß, welchen wir natürlich durchqueren
durften, meisterten wir in ungefähr 7 Stunden. Das Element Wasser ist mehr
als wichtig in diesem trockenen Klima, so dass wir jede uns bietende
Möglichkeit nutzten um unsere Osprey Trinksysteme zu füllen.

We started the trek early in the morning with 6 horses, 6 horsemen, our
guide who helps us very much with translation, a very hard-working donkey
and all of our gear. Our first challenge was Daliz pass over 4200m high. It
was also the first major test of our acclimatisation and fitness, which we
passed without major problems. We made the 18km walk, involvng steep climbs
under the powerful sun, and a cold, fast-flowing river crossing in about 7
hours. Water was more than important in this dry climate, we refilled our
osprey water bags at every available opportunity.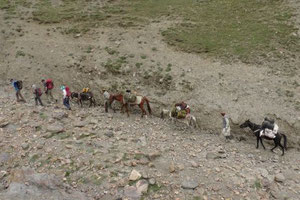 22.07.12

Ein sehr langer Trek mit über 25km. Unsere Befürchtungen, dass die
Schlüßelstelle, ein sehr enger und steiler Weg in einer Schlucht am Flußufer
nicht passierbar ist, bewahrheitete sich nicht. Somit bleibt uns ein Umweg
über 2 Tage, über die Höhen-Route erspart. Die Anfangs sehr heißen
Temperaturen schlugen Nachmittags in ein Unwetter um.

Abends erreichten wir dann Langar auf ca. 3500m wo wir unser Lager auf einer
saftigen grünen Wiese aufschlugen. Das Ziel einen Blog an diesem Tage zu
schicken, konnten wir aufgrund der nicht vorhandenen Satelittenverbindung
nicht realisieren.

Today we had a very long trek over 25km. We were afraid that the Wakhan
River if swollen, would prevent us from continuing on the low route to Lake
Chakmaktyn and force us to take the high route which involves another two
days of trekking. However, fortunately, the river was low enough to allow us
to follow the low route. The hot temperatures in the morning turned into
rainy, stormy weather in the afternoon. We reached Langar in the late
evening, pitching our tents on a beautiful green meadow at about 3500m. Due
to a lack of satelite connection, we were unable to send a blog from here.

23.07.12

Von Langar nach Kash Goz, ein Marsch über 8 Stunden und von ungefähr 20km.
Im Gegensatz zu den vorherigen Tagen war das Gelände bedeutend einfacher.
Gegen 15 Uhr kamen wir bei einer kirghisischen Siedlung an, wo wir vom
Dorfältesten empfangen wurden. Dieser erlaubte uns auf seinem Grundstück zu
nächtigen. Die Dorfbewohner gingen ihrer täglichen Arbeit nach. Die Frauen
molken die Yaks, während die Männer die Herden von den Hochweiden zurück in
die Stallungen (einfache Steinmauern) trieben. Die Regel im Wakhan besagt,
dass man sobald man in Kirghisischem Gebiet ist die Tiere tauschen muss. Die
gewährleistet, dass jeder seinen Teil am Tourismus in der Region erhält. Die
Wakhi Pferdeführer stellten sich als geschickte Verhandler um den Preis der
Tiere heraus. Nachdem wir bezahlt und uns verabschiedet hatten, beschlossen
wir den Tag mit einer Tasse heißer Schokolade und den Gedanken an den
nächsten Tag.

The trek from Langar to Kashgoz, about 20km, took us roughly 8 hours. In
comparison to the previous days the terrain was quite easy. We arrived at a
kyrgyz settlement in the afternoon. The head of the village welcomed us and
allowed us to camp on his land. We were curious to see the people from this
village undertaking their daily work, woman milking yaks, and men returning
in the afternoon with animals from the meadows.

As we have now moved into a Kyrgyz area we have had to change our horses
from Wakhi to Kyrgyz animals. This way the benefits of tourism are shared
among the communities. The Wakhi horsemen proved to be firm negotiators when
setteling the price for the useof their animals for carrying our gear. After
good cup of hot chocolate, we retired for a deserved rest, wondering what
the new day would bring.