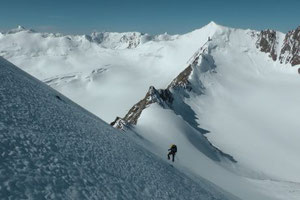 29.07.12

Aufbruch ins Highcamp um auf ca. 5100m die letzte Nacht vor dem
Gipfelversuch zu verbringen. Die benötigten Essensrationen sowie das
Equipment wie Schlafsack, Isomatte und Kälteschutz kommen noch mit nach
oben.
Der anfangs flache Anstieg des Tals wird durch riesige Moränen dermaßen 
erschwert, dass ein vorankommen nur unter größten Anstrengungen möglich ist. 
Das Lastentragen in die Materialdepots ist eine schmerzhafte Aufgabe. 
Stundenlanges von Block zu Block springen ist ein Balanceakt zwischen 
Beinbruch und Bänderriss. Schließlich sicherten wir eine Route über den 
Gletscher ab, der das Moränenmartyrium verkürzte. Das letzte Hochlager 
errichteten wir auf dem Gletscherplateau in der Höhe von 5200m. In der 
kommenden Nacht werden wir den Gipfelversuch wagen. 

This day starts with another walk up to the depot 2 where we plan to build
High camp in 5100m There we will stay the last night before the first summit
approach. The necessary food and the equipment like sleeping bags, sleeping
mat and clothes for cold temperature are in our bags.
The moderate entry of the valley is followed by the worst moranes, that make
any progress very hard. The load carrying to the material depot is a pain.
Hours of stone stepping from block to block with heavy loads is a balance
between braking your legs and ripping your tendence. Finally we secured a
route over the glacier to shorten the mouraene martyrdom. The final high
camp on the snow lake we built at an altitude of 5200m. This night we want
to try to scale the summit.