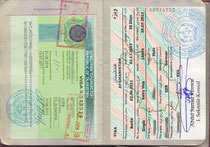 Permits, Visa & Regulations…
The expedition will take us to Tajikistan (access point for Wakhan Corridor) and Afghanistan. Both countries require visas which will be obtained in June 2012. Additionally to visa, travel in the south of Tajikistan requires additional GBAO permit which can be obtained together with the visa or on arrival in Dushanbe.
The Badakashan Tourism Office provides invitation letters that are needed to support Afghan visa application. In addition to visa a local permit is required. Two of the team members, Malgorzata Skowronska and Sarah Sheridan travelled to the region in the summer 2011 and they are familiar with the process of registration upon arrival that is crucial to obtain the permit. At the present time no extra permit is required for climbing in Afghanistan's Wakhan, apart from Noshaq.  
As we plan to conduct paraglide flights in order to film the climbs from above. We will require a permit for the activity.  With the help of our associates in Kabul as well as in Eshkashim we plan to obtain an adequate permit from a local commander before we arrive in the region.