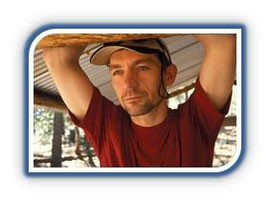 Mariusz Hoffmann
(Exped Film/Mountaineer, Germany/Poland)
Mountains are his life - no matter if at home, the rock climbing paradise of Frankenjura or in the far distant places on this planet, he is passion driven on the constant lookout for new challenges.
His experience in climbing as well as filming are a big asset to our expedition. He worked on the Baffin Island Expedition film "Ausgesetzt"  - a huge success on international outdoor filmtours and festivals.
His experience of more than 30 years of climbing and expeditions are way too much to ad it on one sheet - just to mention a few highlights here:
2001 - EL GIGANTE - "La Conjura de Los Necios " 
Kurt Albert & Stefan Glowacz climb a new route through the highest rock cliff of Mexico. With Hans-Martin Götz, Holger Heuber, Gunda Frühwald und Mariusz Hoffmann.
2002 - Kurt Albert´s Expedition to the  "Cirque of Unclimbables"
By Fair Means  going 600km by kayak on the approach in the North of Canada, NW Territories, for the cliffs of "Cirque of Unclimbables" with more than a 1000m granit fangs – especially the legendary "Lotus Flower Tower".With Holger Heuber, Jens Reinhold and Mariusz Hoffmann
2005 - Patagonia
Crossed the Continental Ice Field of Patagonia with Kurt Albert
2008 - The Bastions - Buchan Gulf, Baffin Island, Kanada
First ascent of "Take the long way home"  (X-, 700m) by Stefan Glowacz & Robert Jasper. Further team members: Holger Heuber, Klaus Fengler and Mariusz Hoffmann. http://www.baffinexpedition.com/