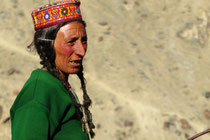 HISTORY & LEGENDS OF SHIMSHAL
There are many legends of Shimshals history of origins.
According to local oral tradition, one legend has it, that Sher, the son of Mamu Singh and Khodija, discovered a flat grassy area — a Pamir, on one of his hunting trips. However, Kyrgyz had settled in Pamir and claimed it as their land, but Sher saw it as his own property. Sher and the Kyrgyz decided to resolve the conflict with a polo game[1] using all Pamir as the playing field: if Sher drove the ball over Shimshal Pass toward Shuwert, he would win title to all territory from Shimshal to Raskam; if the Chinese (Kyrgyz) succeeded in carrying the ball to Shuijerab, Sher must relinquish all lands from Pamir to the Hunza River.[2] Sher had no horse, so he had to play on a yak against the Kyrgyz on their fast horses. Nevertheless, Sher succeeded in driving the ball over Shimshal Pass and beyond Shuwert against the strangers' horses, and won the polo game. The intruders left and since then, the pastures beyond Shimshal Pass belong to the people of Shimshal.[3] He eventually married a Wakhi women from Sarikol, who bore him several sons, the descendants of whom founded the three main lineage groupings of Shimshal: Gazikator, Bakhtikator and Baqikator. Soon after, their forefathers established fealty with the ruler of Hunza, becoming the first Wakhi-speaking community in Hunza, the first permanent settlement in what is now Gojal (Wakhi speaking upper Hunza). Fifteen generations have passed since Sher's adventures. Late in the last century a missionary from Sarikol ventured into Hunza, and preached the Ismaili gospel to the ruler of Hunza, who accepted the faith and endeavoured to convert his subjects. Hunza and Shimshali have been devout Ismailis since then.[4]
Due to its difficulty of access, Shimshal was used as an exile under the rule of the Mir of Hunza, who sent criminals and society outcasts to Shimshal for punishment.[5] Shiptom reports of a man who "had been banished to Shimshal for some crime or series of crimes…. who relied for his living upon the charity of the natives."[6]
---