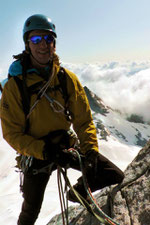 Harry Kirschenhofer 
Climbing instructor of the DAV (German Alpine Club, Sektion Neu Ulm) for mountaineering, ice and rock climbing.
Experienced mountaineer, no matter if on ski, ice or rock routes with tours all over the Alps, from Mont Blanc (4.808m), Nordend (4.609m) and Nadelhorn (4.327m) to North Faces like Piz Roseg NE-Face, Petersenspitze-Brochkogel and Wildspitze N-Faces, just to name a few tours. Harry lists his favourite rock climbing spots as the Dolomites with Rosengartenspitze ("Steger"), Vajolettowers, Bergell, Tannheimer, Ammergauer and more.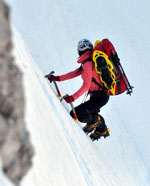 Sanja Durin 
From high altitude mountaineering to technical rock and ice climbing, Sanja has done it all:
From the summit of Aconcagua in 2012 via the Croatian Female expedition to Mt Everest in 2009 to list some more technical climbs:  Slovenian Alps (till grade V), Austria (Maltatal, Grosser Klammfall "Mareiner" 360m multi pitch ice climbing), Dolomites (Tre Cime, Comici-Dimai VII, 550m (VI, A0), Finnish route VI-, 150m), sport climbing in Paklenica, Croatia (Velebitaski 6b, 250m, Nostalgija 6b, 350m (6a, A0), Meteora, Greece (Regenpfeiler, V, 160m), Riglos and Terradets, Spain (Moskitos, 5b, 200m, Chopper 6c, 270m (6a, A0), Musical express, 6b, 220 m (6a, A0), Taghia, Morocco...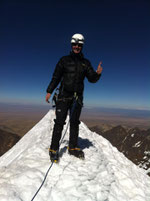 Michael Pfeiffer 
Michael is on his second Tour to Pakistan and has already proven to be a fearless rider of a 800kg Yak bull whilst partaking in the Shimshal Yak Festival. The mountains have drawn Michael all over the world from the Alps with Mt Blanc (4.808m) on various routes, Aguille du Jardin (Pointe Eveline) 4026m, Aguille Vert (4.122m), Grand Jorasse/Pointe Croz (4.110m) to the big ones: 
2012: Illimani (6.400m), Condoriri (5.700m), and first ascents of two 5500m peaks, previously considered to be unclimbed. Andes, Bolivia. 2011: Mt Khuiten (4.374m), Altai, Mongolia. 2010: Huayna Potosi (6.088m), Pequenio Alpamayo (5.400m), Andes, Bolivia. 2009: Spantik (7.027m), summit bid failed due to bad snow conditions, Pakistan. 2008: Cerro Plata (6,094m) and other 4-5000m peaks, Argentina. 
2007: Khangyatse (6.400m), Stok Kangri (6.153m), Ladakh, India.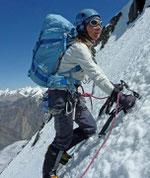 Birgit Walk 
Experienced Alpinist on her third Tour in Pakistan, where she has accomplished two previous first ascents:
2012: Nameless Peak, (5.700m), Ghidims Valley, Shimshal.
2011: Kuksil I (6.152m), Northern Ghujerab, Pakistan.
2010: Stok Kangri (6.153m), Ladakh, India.
Birgit turned her passion for filming into profession with a education in video journalism at the Wifi of Vienna. With her skills, she is responsible for the documentary of the exped, supported by Chris.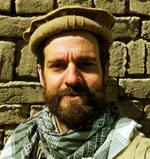 Chris Nettekoven 
On his 4th Tour in Pakistan, well familiar with Shimshal, the local people and their culture and traditions. Successfully climbed Koh-e Brobar (6.008m/first ascent) with the same team from Shimshal. Further tours: 2012 Afghanistan: Wakhan Korridor, Koh-e Elgha Eli IV (5.725m/first ascent), 2010 Bolivia: Huayna Potosi (6.088m), Licancabur (5.920m), Uturuncu (6.020m – retreated at 5.700m), 2009 Iran, Mt. Damavand (5.671m). Received the "Globetrotter of the Year 2012" award for the Afghanistan Expedition 2012.