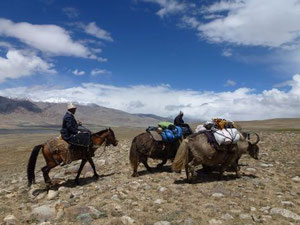 Früh am Morgen des nächsten Tages brachen wir in Richtung Bozai Gombaz auf,
einer weiteren kirgisischen Siedlung. Es ging vorbei an ehemaligen
russischen Stellungen, Schützengräben, Stacheldraht und großen Tanks, welche
am Eingang zum Wakhjir Tal stationiert waren. Den Angaben der Lokalen
Bevölkerung zu Folge waren ca. 500 Soldaten vor Ort, um Mujaheddin aus
Pakistan vor dem Eindringen nach Afghanistan über den Wakhjir Pass zu
hindern. Ein weiteres Highlight des Wakhir Tals sind die Eishöhlen, welche
als eine Quelle des Oxus angesehen werden. Aus weiter Ferne konnten wir das
erste Mal den Chakmaktyn Lake sehen. Weitere Flußüberquerungen in sehr
morastigem Gelände stellten sich als ein El Dorado für Moskitos heraus. Die
Blutsauger waren gnadenlos und beschleunigten unser Vorankommen ungemein.
Letztendlich erreichten wir Utsch Djelgha, eine weitere kirghisische
Siedlung. Begrüßt wurden wir auch hier vom Anführer des Dorfes, der uns
einlud in einer der traditionellen Yurten zu nächtigen. Trotz Ramadan war es
uns gestattet vor Sonnenuntergang zu essen, da wir Reisende sind. Der
hervorragende salzige Yak Butter Tee, wurde uns neben Reis, Brot und Yak
Butter sowie Yak Quark gereicht. Am Abend änderte sich das Wetter
schlagartig in Regen und dann Schnee.

Quite early the next day we left for Bozai Gombez. Another Kyrgyz
settlement. We passed remanents of Soviet camps with remains of trenches,
barbed wire and big tank-like vessels, at the entry of the Wakhjir valley.
According to locals there had been 500 Soviet soldiers stationed here, to
defend Mujaheddin from entering Afghanistan from Pakistan via Wakhjir pass.
Another highlight of the Wakhir valley are the ice caves which are thought
to be the source of the Amu Darya (Oxus) River. From far away we could
already see Lake Chakmaktyn. The valley, swampy in parts, proved to be the
home of mosquitoes, which we found out when crossing another river. The
attack of the blood suckers was almost unbearable! Finally we reached
Utschdjelgha another Kyrgyz settlement. We were welcomed by the village
leader and invited to stay in a traditional yurt. Despite Ramadan, our Wahki
guide and the rest of the team we were offered food and drink before
sunset - being exempt from the fast due to being travellers. We were treated
with delicious salty yak butter tea, bread, rice accompanied by yak butter
and yak quark. In the evening the weather changed rapidly into rain and
snow, and we were especially grateful to be in the warmth of the yurt.