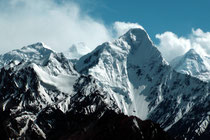 MOUNTAINEERING TARGETS:
George Cockerill, the first Western visitor who reached the isolated Shimshal main valley in 1892 noted his "conviction that at the head of the Ghujerab and Shingshal valleys there would be found a field for exploration worthy of any traveller, however distinguished."[1] Cockerill`s words have not lost any of its truth from the past to the present. The numerous secluded side valleys of the Shimshal area still represent a hidden Shangrila for mountaineers. Quite a number of unknown, unclimbed and nameless peaks still await their first visitors to the top. 
Expedition and mountaineering aspects:
Our basic travel philosophy is a low impact style "leave nothing but footprints, take nothing but pictures". Our expedition and mountaineering idea is a minimal approach following the paradigm "by fair means" without high porters but still engage local people for transporting our goods to the base, that creates additional income for the local community from mountaineering tourism. Additionally this enhances our contact and cultural exchange with the locals.
Cultural and socio-economical aspects: From our previous expeditions to Iran, Afghanistan and especially Pakistan, our team is well aware of Islamic culture in general and the local Wakhi culture, its centuries old traditions and Ismaili belief of Shimshal in particular. Team members Birgit and Chris visit Pakistan for the third, respectively fourth time, especiallyShimshal to which we kept close contact ever since. This expedition is a cooperation with two young and eager native Shimshali mountaineers, with whom we have successfully accomplished a first ascent in 2011: Mirza Ali (30) and Samina Baig (21) have reached several unclimbed virgin peaks as well as participated in expeditions to Spantik (2007, 2009, 2012), Manaslu (2012) and now, from April to June, on their attempt to summit Mt. Everest in 2013.
Safety aspects: due to our isolation we take all possible safety precautions and emergency equipment that are necessary: Communication devices like satellite phone or PLB´s (personal location beacons, also known as GPS based spot messengers) as well as medical supply, which includes all necessary stand by medications for severe symptoms of AMS, as well as medicine for all other possible complications a visit in this area can bring along: several kinds of antibiotics for it is specific use, first aid kits and so on.
Environmental aspects: as we all appreciate and respect the natural beauty of our beloved mountains, we are absolutely aware of the sensitive high altitude eco-system. That is why we are totally devoted to environmentally friendly, low impact and light travel and planning to bring with us only necessary items. None of plastic package will be burned in the mountains and created litter will be taken back with us.  The team will only be using biological soap and washing liquid. We will provide our own fuel for cooking to avoid using local bush or yak dung that are normally used by local population in summer settlements when travelling to higher grazing areas.
---
[1] Cockerill, George: Pioneer Exploration in Hunza and Chitral,1939, in: Himalayan Journal 11,  http://www.himalayanclub.org/journal/pioneer-exploration-in-hunza-and-chitral/